SENT TO ALL STAFF, MEDICAL STAFF, STUDENTS AND VOLUNTEERS ON BEHALF OF KATHY MACNEIL, PRESIDENT & CEO – AND DR. RICHARD STANWICK, CHIEF MEDICAL HEALTH OFFICER
---
We begin today by wishing all of the moms in the Island Health family a very happy Mother's Day this Sunday. Whether you have young children at home, or grown children living in another part of the country, we know there have been challenges because of COVID-19. Balancing home-based schooling with work, finding new childcare arrangements, or missing your kids who don't live with you have all been tough, and we hope on this weekend you find a way to connect and feel the appreciation and love they have for you.
We also know Mother's Day can be a difficult time for some – if you have lost a child or your mom, if your relationship is strained, or if COVID-19 is preventing you from visiting. If you're feeling challenged or triggered by Mother's Day, or COVID-19 or anything else, please remember there are supports available to you. Please visit this resource page (please note: Island Health Login required) for more information.
(Please click here for Health, Wellness and Urgent Support Services for medical staff.)
We would also like to echo comments made by Dr. Bonnie Henry and Minister Adrian Dix: While this week saw the release of the B.C. Restart Plan, it is not yet the time to break with the physical distancing protocols we have been living with for the past two months. If you don't live with your kids or your mom, please look for ways to connect with them virtually instead of in-person.
Minister Dix said yesterday this is especially true for people who have loved ones in long-term care. "We know that this is a time, one of the many times, when people get together. We know that every day is difficult when we can't visit our parents or our grandparents or our friends in long-term care. The restrictions that have been placed on visitors in long-term care and in acute care must continue. Personally, I know how difficult this is. My family does. And I know of so many other families in B.C. understand how difficult it is," he said.
While it may be a difficult weekend for many families who can't visit their mom in long-term care facilities – we are reminded of the importance of the care provided by our Island Health family. We are pleased to share this short video with you in advance of its public release on Mother's Day.
The video shares a tribute from the daughter of an Oak Bay Lodge resident for the incredible care her mom is getting, and we know that incredible care is provided by our teams in all of our long-term care facilities. We will be sharing this video on our social media channels on Mother's Day – if you see it come up in your feed, please share with your friends and family. You all deserve the kind of recognition that we see from Deanna in this video!
PROVINCIAL DAILY UPDATE
Today Dr. Bonnie Henry and Minister Adrian Dix announced 29 new COVID-19 confirmed cases across B.C. in the last 24 hours, for total of 2,315 cases. There are 1,579 people who had tested positive and have now recovered. Sadly, one more person has died from COVID-19, bringing the provincial total to 127 deaths. Across B.C. there are 73 people in hospital, with 20 of those in intensive care.
At Island Health, we have 125 confirmed COVID-19 positive cases – an increase of one from yesterday. There was a data error in the provincial numbers released yesterday that showed Island Health was up to 126 cases – that error has now been corrected. Two patients remain in hospital with one of them in critical care. We continue to have 110 people who no longer need to remain in self-isolation, as they are no longer at-risk of transmitting the virus.
You can read more in the joint statement.
Minister of Social Development and Poverty Reduction Shane Simpson announced today that while there has been great progress in moving residents into temporary supported housing from the encampments at Topaz Park and on Pandora Avenue in Victoria, more time is needed. The province has extended the deadline (originally May 9) to May 20. The minister said no one will be asked to leave the encampments without being offered a suitable temporary housing option.
We are grateful to be a partner in this important work, providing much needed health supports to this vulnerable population. You can read more in this statement from the minister.
VACATION PLANNING
We know that many Island Health staff and medical staff changed their vacation plans to respond to the COVID-19 Pandemic, and we thank you for your commitment to your teams and to the communities and people we serve.
But we also recognize the importance of taking time away from work for your health and well-being. Please ensure you are taking some time off to rest and recuperate. As we head into this period of renewal, please note that any time off already scheduled as of May 11 should be taken as planned. You can read more details about how this applies to unionized and non-contract staff.
CONCLUSION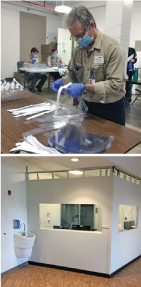 Finally, as we close out the week we want to say thank you to the people who provide critical, foundational supports at Island Health and often don't get the recognition they deserve – our amazing Facilities Maintenance & Operations (FMO) teams.
From the onset of our pandemic response, FMO has been hard at work to keep our staff and patients safe – often on very short notice. This work includes construction and renovation of drive-through screening sites, expedited work on Urgent & Primary Care Centres and alternate COVID cohorting sites, and the creation of ante-rooms at NRGH, VGH and RJH so that intubation of COVID positive patients can be done safely. When not out in the field, the team is sourcing multiple streams of PPE and hand-sanitizer and working alongside the logistics team to assemble face shields for care staff.
This is critical work that has enabled our care teams to provide excellent care and testing during the pandemic and we are so thankful for their commitment to keeping us all safe and operational, now and always.
With sincere appreciation,
~ Kathy and Richard
---
Stay informed: