SENT TO ALL STAFF, MEDICAL STAFF, STUDENTS AND VOLUNTEERS ON BEHALF OF KATHY MACNEIL, PRESIDENT & CEO – AND DR. RICHARD STANWICK, CHIEF MEDICAL HEALTH OFFICER
---
Each year on May 5th, the World Health Organization recognizes hand hygiene day – this year's campaign theme is SAVE LIVES: Clean your hands. At no time has the importance of proper hand hygiene been more widely understood and appreciated as it is during the COVID-19 pandemic. As we begin to learn more tomorrow about how B.C. is going to slowly open up areas of society, while protecting our population and health care system, we must remain committed not only to physical distancing, but also to hand hygiene as a key measure for preventing infection. Please take this opportunity to review the information available on our Intranet on hand hygiene from our Infection Prevention and Control team (please note: Island Health Log-in required) and thank you for your commitment to-date on hand hygiene.
Today, we held our weekly staff and medical staff town hall where we had the opportunity to provide a poignant reminder that we must not forget about the other public health emergency we are facing – the ongoing opioid overdose crisis. This has been a tragic week across Island Health. Ten people died from overdoses in just the last three days in Campbell River, Duncan and Victoria, bringing home the criticality of the work being done to support vulnerable people and respond to this ongoing crisis. 
Our ability as a health system to pull together during COVID-19 has been inspiring. Across our portfolios, in communities and with our partners, we are seeing an incredible commitment to tearing down silos and walls. We are working closer and moving quickly to respond. Our response to COVID-19 also continues to build our relationships in communities, in facilities and together. We are one Island Health family and in times of crisis, families come together. Thank you to each of you for continuing to support our response not only to COVID-19, but to both public health emergencies.
As noted, the Premier will discuss tomorrow how we will begin incrementally opening up areas of the province, with key principles based on scientific evidence and our B.C. experience. We look forward to learning what our journey will look like as we move forward together. We will share a summary of that announcement in our update tomorrow evening.
alert to health care workers
We are facing a challenge linked to the recent increase in COVID-19 cases associated with the Kearl Lake oil sands operations in Alberta. Many of the people who work on this project live in B.C. and travel between B.C. and Alberta regularly for work. British Columbians returning from the Kearl Lake project from March 24 onward, are ordered to self-isolate for 14 days when they return to B.C.
If you have a loved one, friend, or neighbour who works at the site, please remind them that they need to stay home, monitor themselves and their families, and if symptoms arise they should contact a health care provider or 8-1-1 for further assessment. Island Health continues to work with the Provincial Government and other health authorities to ensure this message reaches people who need to hear it.
PROVINCIAL DAILY UPDATE
Today Dr. Bonnie Henry and Minister Adrian Dix noted there are just eight new COVID-19 confirmed cases across B.C. in the last 24 hours – the lowest number of new cases since mid-March when the pandemic first arrived in B.C. The total number of cases in B.C. is now 2,232 with 1,472 no longer having to practice isolation measures.
Dr. Henry noted 17 outbreaks are officially over at long-term care homes, including the Lynn Valley Care Home, the first care home to have an outbreak. While this is welcome news today, sadly four additional people died from COVID-19, for a total of 121 people overall.
At Island Health, we have had 124 confirmed COVID-19 confirmed cases – no additional cases in the past two days. Three patients remain in hospital, with one in critical care. One hundred and five people no longer have to remain in self-isolation measures, as they are no longer at risk of transmitting the virus.
You can read more in the joint statement or the transcript of the media availability.
Earlier today, the province announced they will be opening a 45-bed emergency response centre in Victoria, located at Save-On Foods Memorial Arena, as a temporary accommodation site for people living in encampments on Pandora Avenue and Topaz Park. Our MHSU team is working hard to build wrap-around health-care services, including substance use supports in this new location and other identified locations in Victoria, which were previously announced. We thank BC Housing, the Provincial Government, the City of Victoria and our other partner organizations for their support and continued commitment. For more information read the news release here.
MOBILITY FOR GOOD
We want to give a shout-out tonight to Telus and their Mobility for Good program for the generous donation of 50 cell phones for patients and families in Nanaimo. Social Workers at NRGH and Nanaimo Community Health Services reached out to Telus when they realized the pandemic was a barrier for clients to meet basic communication needs while maintaining physical distancing.
The phones are already making a huge difference in many lives – allowing families to stay connected when face to face visits are not allowed. Telus stepped up to the plate and we appreciative for their contribution. Read more about the social workers behind this effort, and how their clients' lives have been enriched through this donation.
INTERNATIONAL DAY OF THE MIDWIFE
Today is International Day of the Midwife and we want to recognize the 75 Registered Midwives up, down and across the health authority. Midwives support over 9,000 births in B.C. every year and are involved in 35% of the deliveries across Island Health.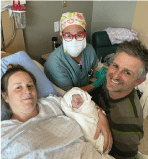 Jill Pearman, Deputy Department Head of Midwifery shared with us how COVID-19 has brought the multi-disciplinary perinatal teams together in new and stronger ways. Midwifery, along with Nursing, Family Practice, Obstetrics, Pediatrics and Anesthesia are meeting regularly to collaborate to meet the needs of new families from the beginning of pregnancy through to the birth of the newborn and into postpartum.
Jill is shown here with new parents Jen and Matt with their baby girl Petra Irene who entered the world small but mighty (weighing 5 lbs, 13 oz) on April 24th at VGH. As many of us are reminded daily of the challenges of the pandemic, this new family brings each of us joy and renewed hope for tomorrow and the days to come.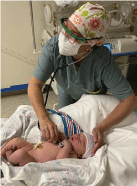 Midwives, like many of our clinicians, have discovered new ways of caring for their clients. COVID-19 has changed the way they provide care, such as reducing the frequency of in-person visits, no longer permitting additional family members for prenatal appointments, using new ways to connect using virtual care, and restricting visitors after babies are born.
Thank you to Jill and all the midwives across Island Health for adapting to a new ways to providing safe and quality maternity care to parents as they welcome new members to their family and to our communities. You can read stories about midwives in B.C. and in our region here.
Please continue to take care of each other today, and in the days to come.
~ Kathy and Richard
---
Stay informed: