SENT TO ALL STAFF, MEDICAL STAFF, STUDENTS AND VOLUNTEERS ON BEHALF OF KATHY MACNEIL, PRESIDENT & CEO – AND DR. RICHARD STANWICK, CHIEF MEDICAL HEALTH OFFICER
---
This afternoon, Premier John Horgan announced the extension of B.C.'s State of Emergency for an additional two weeks, marking this the longest state of emergency in the history of the province. The extension will continue to support our shared response to COVID-19 protecting our families, our friends, our health-care system and health-care teams. We appreciate the provincial government's continued commitment to supporting the health-care system and our teams to be able to prepare and respond to COVID-19.
SINGLE SITE UPDATE
We are pleased to share Island Health has now fulfilled the Provincial Health Officer order restricting long-term care staff from working in more than one facility. The order helps protect vulnerable seniors in long-term care settings, which have been hard hit by the COVID-19 pandemic in other parts of B.C. and Canada.
We are grateful there have not been any outbreaks in long-term care homes in Island Health, due in large part to the actions taken by our long-term care staff each and every day to keep the residents, themselves and their colleagues safe; and to the long-term care program and our Medical Health Officers who limited visits to facilities early and limited care providers from working at multiple sites.
A new MHO order was issued last Friday at Island Health. The new order allows staff to work at an acute care facility or in the community in addition to their assigned long-term care home. In the early days of our pandemic response, Island Health was proactive in limiting the movement of staff between long-term care and some of these other health facilities. This new order aligns us with the provincial order. We believe with the plans and protections we now have in place, this is the right time to make this change.
You can read more about the single site orders in this information sheet, and FAQ. (Island Health log-in required)
We recognize how hard it has been for residents and their loved ones to not be able to see each other in person during the pandemic. To our long-term care teams, and others including IM/IT, who have helped bridge the gap through virtual visits thank you for your efforts. To our MultiMedia and Social Media teams, thank you for highlighting stories of care and compassion families have for our long-term care team members during this difficult time. While we continue to support and highlight virtual and other alternative visits, we continue to work closely with the provincial government and the Provincial Health Officer on opportunities to safely and responsibly start reconnecting families and loved ones in long-term care in person.
Remote Work Survey
Early in our COVID-19 response, we asked many of you to shift from an on-site workplace to a virtual workplace. We recognize that adjusting to working from home – and making the change during a global health crisis – can be stressful.
In order to provide the best support for working remotely, now and in the future, we need insight into the experience of those members of the Island Health family who made that shift. We have developed a 'Remote Worker Pulse Check' survey to help inform our approach to bring people back to in-person office environments, and to update our organization policy and procedure on remote and mobile work for those who will continue to work from home and other off-site locations.
If you have been working remotely, please take 10-15 minutes to complete this Remote Worker Pulse Check. The survey will remain open until June 5.
PROVINCIAL DAILY UPDATE
Today, Dr. Bonnie Henry and Health Minister Adrian Dix released a statement announcing nine new people with confirmed COVID-19 across B.C. in the last 24 hours, bringing the total to 2,550. Of those, 2,144 have fully recovered and are no longer at risk of transmitting the virus. Our province has 37 people in hospital, with seven in intensive or critical care. There has been one new COVID-19 death in the last 24 hours in the Fraser Health region, for a total of 162 deaths in British Columbia.
At Island Health, one patient remains in hospital and no new additional individuals with COVID-19 have been confirmed in over two weeks. Of the 127 confirmed COVID-19 cases, 121 people have recovered and no longer have to practice self-isolation measures and are no longer at risk of transmitting the virus.
As mentioned yesterday, we are encouraged with every day that passes with no new cases in our communities. Our commitment to following the guidance of Dr. Henry in the coming weeks around 'bigger spaces and fewer faces' will be our mantra going forward to keep these numbers down in our communities.
For more details:
Read more on the extension of B.C.'s State of Emergency

here.

Minister Dix and Dr. Henry's joint statement

here.
Reminder: This is the last week to complete the COVID-19 survey: Your story, our future. The survey is open until Sunday, May 31 and will provide important data for public health as we continue to respond to the COVID-19 pandemic.
TOWN HALL SUMMARY
Thank you to everyone who was able to call into yesterday's staff and medical staff weekly COVID-19 town hall. We truly appreciate hearing directly from you and having the opportunity to answer your questions. For those who were not able to attend the live town hall, we have now posted the audio files and a summary for you and will post answers to questions that we couldn't get to during the town hall at the end of the week.
CONCLUSION
From Kathy MacNeil: As a former physiotherapist, I would like to take this opportunity to recognize my PT colleagues during National Physiotherapy Month. I would like to thank PT's and Rehab Assistants who work to enable the "possibilities" for patients in recovering function and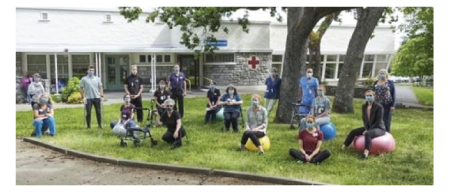 independence. PT's are natural problem solvers and innovators and I am so appreciative of the opportunities practising physiotherapy gave me to develop and mature those skills as they are so needed at every level of the health care system. To all Island Health PT and Rehab Assistant team members, including those pictured below at the Adanac Building on the RJH campus, thank you for all you do.
Our continued gratitude and appreciation,
~ Kathy and Richard
---
Stay informed: