SENT TO ALL STAFF, MEDICAL STAFF, STUDENTS AND VOLUNTEERS ON BEHALF OF KATHY MACNEIL, PRESIDENT & CEO – AND DR. RICHARD STANWICK, CHIEF MEDICAL HEALTH OFFICER
---
Yesterday, we had the opportunity to connect with staff and medical staff in our weekly COVID-19 town hall, followed by a public town hall in the evening, co-hosted by MLAs Ronna-Rae Leonard and Norm Letnick. These sessions are always a good opportunity to hear from staff, medical staff and the public. As we move to phase two of the BC Restart Plan, with sectors of the economy beginning to open and services returning, events like these help us be open and transparent, and allow us to learn where we have more work to do as we transition into our new normal. For those unable to join the staff and medical staff town hall, we invite you to listen to the audio files and review the summary. You can watch the video of our public town hall on Facebook or Youtube.
At Island Health, we are moving forward. Yesterday marked the first day of resuming non-urgent surgeries, and the Island Health surgical team performed over 90% of usual volumes compared to the average weekday in May of last year. Given the impact of COVID-19 on our sites and work processes, this is an incredible achievement by the surgical and support teams. We congratulate everyone who has worked tirelessly as they transition into a new way of delivering surgical care for our patients during COVID-19.
We're also pleased to share that retail food services and seating areas will begin to re-open next week. As different locations open, you will see modifications to seating areas, menus and service to comply with the guidelines provided by Dr. Henry and WorkSafeBC. Seating and food services will be available beginning May 25, with the exception of the North Island Hospitals which will open some seating next week, and resume food services in June. We want to thank you for your continued support of our retail food services as they move toward a modified service model.
New COVID-19 and PPE Intranet Pages
The COVID-19 Intranet page (Island Health Log-in required) – our 'source of truth' throughout the pandemic – has been updated with improved navigation and features to allow you find general information or sort information based your care setting. A separate and distinct PPE page has also been created to sort information by Need to Know, Need to Do and an FAQ.
(Please note: Medical staff can access PPE information here).
Please read this post for more information about what has changed and tips on using the new navigation tools, and take some time to review the new pages. If you have any questions or suggestions, email lps@viha.ca. Our thanks to the cross-portfolio team that has pulled these new pages together.
PROVINCIAL DAILY UPDATE
Dr. Bonnie Henry and Health Minister Adrian Dix released a statement today announcing 21 new COVID-19 confirmed cases across B.C. in the last 24 hours, bringing the total to 2,467.
There are 43 people in hospital, with 10 in intensive care, and 2,001 individuals who no longer have to practice isolation measures. Sadly, there were three more deaths in the Lower Mainland, for a total of 149 in the province, due to COVID-19.
At Island Health, there has been no change over the past several days. We have had a total of 126 confirmed COVID-19 cases. One patient remains in hospital with none in critical care. We have 120 people who no longer have to practice self-isolation measures, as they are no longer at risk of transmitting the virus. You can read the joint statement here.
*Reminder: The COVID-19 survey: Your story, our future remains open until May 31. To date, 286,000 people have had their say. If you haven't done so yet, please take 10-15 minutes to help inform our future.
VISITOR POLICY MAINTAINS ESSENTIAL VISITS ONLY
The Ministry of Health has released updated Family and Visitor Guidance, which continues to limit visitors to essential visits only. The new guidance applies to hospitals and long-term care, and provides clarification that essential visits include support people for patients with disabilities.
Island Health will continue to provide support and education to our Ambassadors, so they can continue to provide guidance to patients, families and visitors entering our facilities. We recognize the need for patients to have supports in place as they navigate the health system and continue to enable patients to connect with those they love through virtual connections.
As we continue to move into the new normal of our Phase 2 pandemic response, we know there will be more people passing through our sites. We will continue to follow the guidance of the Provincial Health Officer and WorkSafeBC to ensure we are providing a safe environment for Island Health staff, medical staff, and our patients, clients and residents.
UPDATE ON VICTORIA encampments
Minister of Minister of Social Development and Poverty Reduction Shane Simpson announced today that campers from Topaz Park and Pandora Avenue in Victoria have nearly completed moving to temporary indoor settings. The move was part of an emergency order issued by the province to get high risk, vulnerable people inside and to help promote physical distancing.
The spaces are being obtained and run by BC Housing, with Island Health providing (or contracting to provide) health care services, including harm reduction, overdose prevention, health assessments and MHSU services. We thank BC Housing, the City of Victoria and the provincial government for their commitment to supporting vulnerable people in our communities.
Today, we also want to share the launch of a new overdose prevention tool called Lifeguard App. Developed in partnership between Provincial Health Services Authority (PHSA), regional health authorities and Lifeguard Digital Health, the app will help save lives by ensuring people who use drugs alone have access to the support they need. Read more about this innovative tool to prevent overdose deaths.
CONCLUSION
As we end today, we want to thank those within and outside of Island Health who continue to deliver and support the delivery of care during the pandemic.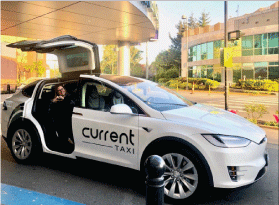 We also want to send a special thank you to Current Taxi, who have provided over 350 complimentary rides to Island Health employees in Victoria. The program was started a little over six weeks ago to show support for health care workers and we extend our gratitude to Dale and his team from Current Taxi for supporting the Island Health family to get to work during these challenging times.
Our deepest appreciation,
~ Kathy and Richard
---
Stay informed: