SENT TO ALL STAFF, MEDICAL STAFF, STUDENTS AND VOLUNTEERS ON BEHALF OF KATHY MACNEIL, PRESIDENT & CEO – AND DR. RICHARD STANWICK, CHIEF MEDICAL HEALTH OFFICER
---
We invite you to join us this evening at 7:15 p.m. for a virtual public town hall, hosted by Courtenay-Comox MLA Ronna-Rae Leonard and Opposition Health Critic MLA Norm Letnick, We will be taking questions from the public which are submitted live during the town hall. Tune in to the live stream through the Government of B.C.'s Facebook page or YouTube channel.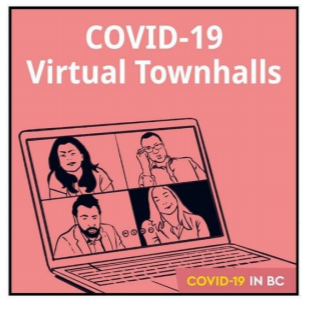 We're anticipating lots of questions from people about the BC Restart Plan, and the return to doing more elective surgeries and expanding other services in our hospitals and programs. As people across the province start to see openings of their favourite restaurants, hairdressers, and other services, we are putting in measures for safe care environments for those we serve and our health care teams as we increase clinical services. Our first priority is ensuring safety protocols are in place, and we expect that we will learn what works and what doesn't work as well. We will move slowly and carefully together.
We are in the process of contacting patients who had their surgery delayed due to COVID-19. To date, we have contacted almost half of the 4,000 individuals, and want to acknowledge the people working seven days a week to connect with these patients. With more patients coming back into hospitals for their scheduled surgery, we remind you to please leave visitor parking open to ensure their return to the hospital is supported from the time they arrive.
PANDEMIC PAY FOR FRONTLINE HEALTH CARE WORKERS
This morning, the Province announced COVID-19 pandemic pay for front-line health and social service workers. More than 250,000 eligible front-line workers will receive a one-time payment that boosts pay by $4 per hour for the 16-week period starting on March 15, 2020. Those who are eligible in Island Health will receive the payment directly through Island Health – you will not need to apply.
For more information, please read the news release, and visit the B.C. Government's Temporary Pandemic Pay webpage to see details about who is eligible. This temporary pay recognizes the people working on the front lines of the pandemic providing health and care services.
PROVINCIAL DAILY UPDATE
In their joint news conference this afternoon, Dr. Bonnie Henry and Minister Adrian Dix shared that there were just two new COVID-19 confirmed cases across B.C. in the last 24 hours. Over the weekend, there were eight cases on Saturday and eight cases on Sunday, bringing the total to 2,246.
There are 45 people in hospital, with 12 of them in intensive care, and 1,975 individuals who no longer have to practice isolation measures. Sadly, there were three new additional deaths in the Lower Mainland, for a total of 146 deaths in the province due to COVID-19.
At Island Health, there has been no change. We have had a total of 126 confirmed COVID-19 cases. One patient remains in hospital with none in critical care. We have 120 people who no longer have to practice self-isolation measures, as they are no longer at risk of transmitting the virus.
Today, Minister Dix also announced clarification to the essential visitor policy to ensure people with disabilities are able to receive the support they need during COVID-19. The guidance ensures the following supports for people with disabilities are considered essential: assistance by designated representatives for people with disabilities, including provision of emotional support; visits for supported decision making; and communications assistance for persons with hearing, visual, speech, cognitive, intellectual or memory impairments. Island Health received the updated policy this afternoon and will formally implement the changes beginning tomorrow.
More information:
WORLD Family Doctor Day
May 19 is World Family Doctor Day. Island Health is proud to recognize the more than 3,000 family doctors dedicated to providing care for our patients and in the community. Today is a day to recognize their hard work and commitment to medicine and primary care. Thank you for everything you do.
In tribute to the family doctors in Island Health, we are profiling some of the family doctors practicing in our region to show the human behind the profession. Read their stories here.
CONCLUSION
May is Speech and Hearing Month, and we want to recognize the contributions of the speech and language pathologists (SLPs) within and outside of Island Health. SLPs work in both acute and rehabilitation settings, helping patients with a wide range of disorders including speech/language/communication disorders, cognitive communication disorders, and swallowing disorders.
You can learn more about the work SLPs do to support people throughout all stages of life (and take a quiz for a chance to win a prize!) here. 
Our deepest appreciation,
~ Kathy and Richard
---
Stay informed: