SENT TO ALL STAFF, MEDICAL STAFF, STUDENTS AND VOLUNTEERS ON BEHALF OF KATHY MACNEIL, PRESIDENT & CEO – AND DR. RICHARD STANWICK, CHIEF MEDICAL HEALTH OFFICER
---
"Innovation is not born from the dream, innovation is born from the struggle." Simon Sinek
In the past weeks, our teams have had to work differently than they ever have in the past. COVID-19 has pushed our system to adapt and accelerate in ways we have never seen before, so that we can respond in a way that supports patients, clients and care providers. We quickly set up assessment and testing sites, advanced virtual care and home health monitoring and have implemented Cerner based EMR in the James Bay UPCC with no onsite support.
Last year, we hit a landmark 10,000 virtual visits with our traditional telehealth (in telehealth rooms) in 12 months. Since COVID-19, in two months, we have completed over 4,000 virtual visits with the implementation of MyVirtualVisit, where patients participate from their homes. Over 60 clinical programs, from Ambulatory Care, MHSU, Primary Care, LTC and Community Care, have adopted its use. The ability to quickly adapt to virtual care has resulted in some unintended consequences that we are thrilled to see.
The Neurology MS program was one of the early adopters of virtual care at the beginning of COVID-19. With the support of the virtual care team they were able to implement virtual care and ultimately reduce a one-year wait list to two weeks. For MS patients, visits were often scheduled over longer periods because active travel is so difficult due to mobility and fatigue. They are now able to schedule shorter, more timely appointments and be more responsive to patient needs.
Another shining example is the use of home health monitoring by Public Health to monitor COVID-19 patients. Public Health nurses had never used home health monitoring before but through a partnership with Telus for the platform and with support from the Ministry of Health, we were able to establish home health monitoring for COVID-19 patients with daily check-ins to monitor symptoms and provide support.
When we asked questions around how we could quickly implement virtual solutions, the answers were simple. In each and every instance it was the people, the Island Health family, who pulled together with one vision – to deliver care to patients. We are so grateful to each of you today and every day.
Public town Hall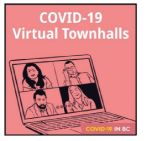 We invite you to join us on Tuesday, May 19 at 7:15 p.m., for a virtual Town Hall, hosted by MLA Ronna-Rae Leonard and MLA Norm Letnick, Opposition Health Critic. We will be taking questions from the public that can be submitted in advance and live during the Town Hall.
Tune in to the live stream through the Government of B.C.'s Facebook page and YouTube channel.
Town hall Q&A
Speaking of Town Halls, we will once again be holding our internal staff and medical staff Town Hall this Tuesday at noon. An email with dial-in information will be sent to all staff on Tuesday morning. The Slido app is now open for questions (#IHCOVID), but before submitting your question, please read through last week's FAQs – and our HR FAQs to see if your answer is noted there. 
PROVINCIAL DAILY UPDATE
Dr. Bonnie Henry shared that there have been 21 new COVID-19 confirmed cases across B.C. in the last 24 hours for a total of 2,428 overall cases. There are 49 people in hospital, with 11 of them in intensive care, and 1,932 individuals who no longer have to practice isolation measures. Sadly, there was one additional death in the Vancouver Coastal region – for a total of 141 deaths in the province due to COVID-19.
At Island Health, we have 126 confirmed COVID-19 cases, but no new cases over the past several days. One patient remains in hospital with none in critical care. We have 120 people who no longer have to practice self-isolation measures, as they are no longer at risk of transmitting the virus.
If you have not had the chance to participate in the COVID-19 survey: Your story, our future please do, and please share the survey with friends and family (open until May 31). You can read the joint statement and the transcript of today's media briefing.
CONCLUSION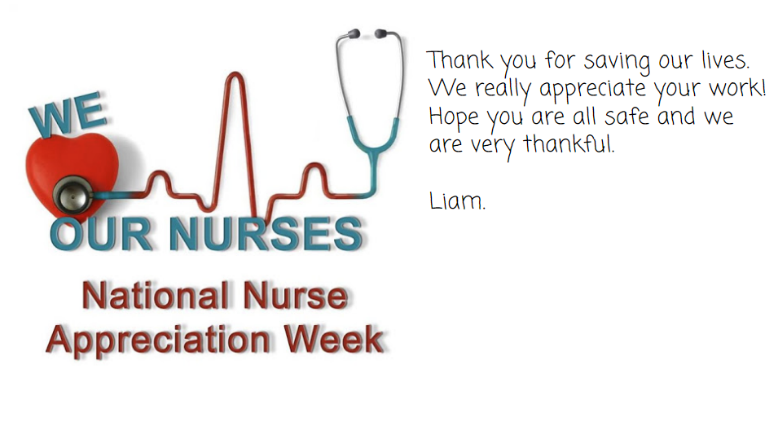 As we end National Nurses Week, we want to congratulate Dawn Nedzelski, Island Health's Chief Nursing Officer and Chief Professional Practice, who was awarded the Alumni Award of Excellence by the University of Victoria's School of Nursing on International Nurses Day 2020.
Check out a project initiated by Mrs. Coleman, a grade 4/5 teacher from Willows Elementary School in Victoria, which shares messages of thanks during Nursing Week.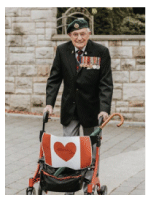 And finally, we couldn't end today's message without recognizing 101 year old war veteran John Hillman for completing his mission to walk 101 laps around the courtyard of Carlton House in Oak Bay. The goal of John's walk was to raise $101,000 for Save the Children Canada's COVID-19 Relief Fund. Not only did he complete his walk today – but he has surpassed his fundraising goal, which now sits at $140,346. Congratulations!
Enjoy the rest of the long weekend and be safe.
Our deepest appreciation,
~ Kathy and Richard
---
Stay informed: