SENT TO ALL STAFF, MEDICAL STAFF, STUDENTS AND VOLUNTEERS ON BEHALF OF KATHY MACNEIL, PRESIDENT & CEO – AND DR. RICHARD STANWICK, CHIEF MEDICAL HEALTH OFFICER
---
As we begin the first long weekend of summer, we would normally see increasing numbers of tourists in our communities, along with many of us wanting to get out camping and enjoying other activities. Of course, this year will be much different. This weekend people across B.C. will be staying close to home to keep each other and our health system strong.
We also know many of you will not be having a long weekend, as you are providing care for those who rely on us. For those working over this weekend, thank you for being there for our patients, clients, residents, and each other.
If you are able to take time off this weekend, we encourage you to stay active, get outside and enjoy B.C. parks close to home, now that most have re-opened for day use. Please ensure to continue our well learned practices to keep yourself and your family safe. This Sunday, watch the skies for the Canadian Forces Snowbirds as they complete a unique cross-country mission called Operation Inspiration to salute Canadians for doing their part to fight the spread of COVID-19. You can follow their progress on Twitter.
After this long weekend, we'll move into Phase 2 of the B.C. Restart Plan. To support many businesses and other sectors of society to get ready, WorkSafeBC released the initial set of industry specific guidelines and resources today to support businesses and organizations to develop their plans to reopen.
Guidelines were released for restaurants, cafes and pubs; salons and personal services; museums, art galleries and libraries, real estate; education; health services; retail; in-person counselling; parks and outdoor spaces; and office space. Additional guidelines will be released early next week. It's important to note, however, businesses in some sectors are still under specific health orders limiting their activities and will not be able to open, or fully open, until those orders are lifted or modified.
Provincial Health Officer Dr. Bonnie Henry also issued a new order today requiring employers to post a copy of their COVID-19 Safety Plan publicly so that it is readily available for review by workers, other people who attend the workplace, and members of the public.
Here at Island Health, work is well underway to support the move into Phase 2 of the B.C. Restart Plan. Teams have already begun building Recovery Plans based on WorkSafeBC guidelines, focusing on our ability to maintain safe work environments for staff and medical staff. Recovery plans are taking into account the ability for staff and medical staff to physically distance, engineered and administrative barriers, and the availability and use of personal protective equipment (PPE).
PARKING REMINDER
Next Tuesday, May 19 scheduled surgeries will resume at Island Health. We want to give everyone who works at our acute sites a gentle reminder to please use designated staff and medical staff parking and leave visitor spots available for our patients who are coming in to receive care. Thank you for your ongoing support of our patients and each other.
PROVINCIAL DAILY UPDATE
Today, Premier Horgan, Minister Fleming and Dr. Bonnie Henry announced the optional part-time return to classes for students in B.C. starting June 1. Children from Kindergarten to Grade 5 will have the opportunity to attend 2-3 days per week, and older kids in Grades 6-12 can attend one day per week. Each school district will have plans for a gradual reopening following strict public health and WorkSafeBC health and safety measures. Dr. Henry stated keeping students safe is her priority. Schools will be contacting parents by the end of next week with more details.
While in-class learning was suspended on March 17, with the majority of students subsequently participating in remote learning, more than 5,000 children of essential workers have been in classrooms since March 30. I know this was important to health-care workers across B.C. and for members of the Island Health family. Hopefully many of you were able to benefit from this option over the past number of weeks.
You can read the full release and safety precautions here.
Dr. Bonnie Henry and Minister Adrian Dix issued a statement on today's COVID-19 update. Across B.C. there have been 15 new COVID-19 confirmed cases in the last 24 hours for total of 2,407 cases. There are 51 people in hospital, with 12 of them in intensive care, and 1,908 individuals who no longer have to practice isolation measures. Sadly, they shared condolences for an additional five deaths – all in the lower mainland. There are now 140 deaths in the province due to COVID-19. The statement also noted there is a new acute-care outbreak at Abbotsford Regional Hospital. This is a good reminder of the critical importance of the work we have all done to protect the patients in our hospitals, and our residents in other sites. Thank you for all you have done to keep our sites – and the individuals in those sites, including care-team members – safe.
At Island Health, we have 126 confirmed COVID-19 confirmed cases – no additional cases in the past few days. Only one patient remains in hospital, with none in critical care. We now have 120 people who no longer have to remain in self-isolation measures, as they are no longer at risk of transmitting the virus. For the first time since we first saw cases in Island Health, there are no longer any people currently self-isolating in the community. While we know there will be additional COVID-19 cases throughout the trajectory of this pandemic, and we currently have one individual in our hospital today, we want to take the opportunity to recognize and thank all members of the Island Health family who supported the care of confirmed COVID-19 individuals who self-isolated in the community.
Read the joint statement here.
CONCLUSION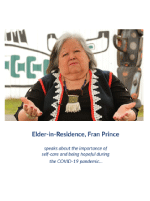 Today, we invite you to take a moment to watch this video of Fran Prince, Elder in Residence at North Island Hospital Comox Valley. Fran speaks to the importance of self-care and new routines during COVID-19, and reminds us this time will pass and we will come together again.
Fran shares the importance of connection with our families, seeing joy in the moment we are in, and always remembering that what we are doing today is connected to our future – the generations that come after us, including our children. Our thanks to Fran for sharing her wisdom with all of us and reminding us to always look inside ourselves, look around, look backward and look forward.
Our deepest appreciation,
~ Kathy and Richard
---
Stay informed: