SENT TO ALL STAFF, MEDICAL STAFF, STUDENTS AND VOLUNTEERS ON BEHALF OF KATHY MACNEIL, PRESIDENT & CEO – AND DR. RICHARD STANWICK, CHIEF MEDICAL HEALTH OFFICER
---
A message from Leah Hollins, Chair of the Board of Island Health on National Nursing Week
I am taking this opportunity to share my gratitude with the over 8,000 nurses across Island Health during National Nursing Week. As a nurse, I worked in unique settings and participated in many challenging health events, but never to the magnitude we are seeing today with COVID-19. This pandemic is a once in a lifetime event – one we will learn from and study for many years. For nurses in 2020, during the Year of the Nurse and Midwife, you are providing comfort and reassurance to patients during a time of adaptation in our approach as we learn together about this novel virus.
You are hearing the stories and seeing the photos of nurses throughout the world where COVID-19 has overwhelmed the health system. In B.C. we have not seen the same impact, but as nurses we stand together in solidarity with every nurse who is there to care for COVID-19 patients today and in the months to come. As nurses, we will always have a special bond with each other, to our patients and within our care teams.
This week, go outside at 7PM and listen to the cheers, pot-banging and sirens celebrating health care and essential workers. COVID-19 has brought the world together to support the health system and celebrate all that you do for those in need. I invite you to celebrate National Nursing Week by sharing this video, highlighting the many nurses we have at Island Health, or this Flickr Album of the hundreds of photos you submitted. 
Thank you.
Leah Hollins, BScN, MBA, CM, LLD (Hon)
---
Planning to return to the "new normal" in Island Health workplaces
Last week, Premier Horgan announced details of B.C.'s Restart Plan. Under this plan, WorkSafeBC will provide guidance to the health sector to ensure our workspaces are safe. At Island Health, planning is underway to determine how we will safely operate as we cautiously move towards 60% of the social contact of the pre-COVID-19 normal.
If you have been working remotely during the pandemic, we know you have wondered what a return to an office environment might look like and when that might begin to occur. Working in partnership with WorksafeBC and the Provincial Health Officer, we are actively planning for both a safe re-entry and to continue remote work options, depending on the needs as assessed by departments at the time. Please read more about our process here.
PROVINCIAL DAILY UPDATE
This afternoon, Premier John Horgan announced the extension of the B.C. State of Emergency for an additional two weeks. The Premier reinforced the need to avoid non-essential travel and reminded people to stay close to home over the coming long weekend.
Dr. Bonnie Henry and Minister Adrian Dix held their regular media briefing, announcing 16 new COVID-19 confirmed cases across B.C. in the last 24 hours for total of 2,376 cases. There are 59 people in hospital, with 14 of those in intensive care, and 1,859 individuals who no longer have to practice isolation measures. Sadly, they noted an additional death in long-term care in the Lower Mainland, for a total of 132 deaths in the province due to COVID-19.
At Island Health, there are no changes since yesterday's provincial report. We continue to have 125 confirmed cases. One patient remains in hospital with no one in critical care due to COVID-19. Of the confirmed cases in Island Health, 115 people no longer have to continue self-isolation measures, as they are no longer at risk of transmitting the virus.
More than 75,000 people in B.C. already participated in the COVID-19 survey: Your story, our future by noon today! Thank you for those who have participated and if you haven't had the opportunity, we encourage you to take 10-15 minutes to have your voice heard. This survey will further strengthen our pandemic response and help guide the B.C. Government and Provincial Health Officer in the weeks and months to come. The survey is open until May 31.
For more details:
Read more on the extension of B.C.'s State of Emergency

here

.

Minister Dix and Dr. Henry's joint statement and the transcript of their media briefing.
STAFF AND MEDICAL STAFF TOWN HALL SUMMARY
Thank you to everyone who was able to call into yesterday's staff and medical staff weekly COVID-19 town hall. We truly appreciate hearing directly from you and having the opportunity to answer your questions. We know it can be hard to make the time to call in for the live town hall, so we have posted the audio files and a summary for you. For questions we couldn't get to during the town hall, we will be posting answers here at the end of the week.
CONCLUSION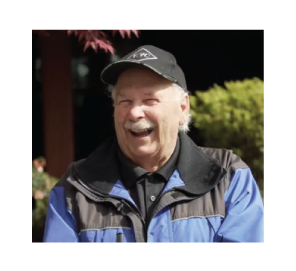 Creating ways for families to support patients in hospital and long-term care facilities during COVID-19 has provided an opportunity for the Island Health family to learn and think differently. The virtual care team has assisted in piloting, testing and deploying device solutions, including iPads, to create opportunities for families to virtually visit loved ones during this time.
From April 15 – May 5, patients in COVID and ICU units at RJH, NRGH and North Island Hospitals were able to have more than 155 video calls with loved ones. At long-term care homes, residents are finding other ways to virtually connect with loved ones through the support of their care teams.
We invite you to watch this video and see how Dale and Muriel are staying connected at Dufferin Place in Nanaimo. In the coming months, families will remain an important part of patient care journey. 
Sincerely,
~ Kathy and Richard
---
Stay informed: