SENT TO ALL STAFF, MEDICAL STAFF, STUDENTS AND VOLUNTEERS ON BEHALF OF KATHY MACNEIL, PRESIDENT & CEO – AND DR. RICHARD STANWICK, CHIEF MEDICAL HEALTH OFFICER
---
This afternoon, the province launched a population health survey in partnership with the B.C. Centre for Disease Control, PHSA, and all regional health authorities. The BC COVID-19 survey: Your story, our future asks how COVID-19 has affected your life, your family and your future. This survey will further strengthen our pandemic response and help guide the B.C. Government and Provincial Health Officer in the weeks and months to come. 
As staff and medical staff of Island Health you have a unique and important point of view to share. We encourage you to take 10-15 minutes to participate in the survey. Please share widely – encourage your friends and family to have their voices heard, and consider whether there are people you know who might need some assistance in accessing it. Those who can't complete the survey online or need assistance in another language can call 1-833-707-1900, seven days a week, between 8:30a.m. and 4:30p.m., to take the survey over the phone.
At the end of the survey, participants are asked about their interest in taking part in two future initiatives: a serology survey (blood testing) to help determine immunity across the population; and the planning for digital tools such as location-based smartphone apps to help identify and manage COVID-19 infections in our communities.
Your voice matters, we encourage you to make it count!
RESUMING ELECTIVE SURGERY
We are actively working through the B.C. Restart Plan as we move toward phase two beginning after the upcoming long weekend. We know people are excited to get to a new normal by expanding their social circles, but we must also remember to go slowly – there are still active cases being diagnosed across B.C.
As we go forward, we'll be incorporating new ways of doing things – further embracing virtual care, supporting our underserved populations in new ways and through new collaborations, and providing care in the community previously provided in hospital, including creating new models of care such as hospital at home. Today, we shared with our communities that Island Health has begun implementing our new way moving forward on surgical renewal.
We started contacting patients about moving forward with their surgeries, and informing them about measures we're taking to minimize the risk, such as virtual pre-admission clinics by video conference, modified scheduling and workflows to maintain physical distancing, enhanced screening and assessment prior to surgery, and incorporating additional cleaning and infection control measures. You can read more in our news release.
PROVINCIAL DAILY UPDATE
Today Dr. Bonnie Henry and Minister Adrian Dix announced there were seven new COVID-19 confirmed cases across B.C. in the last 24 hours for total of 2,360 cases. There are 63 people in hospital, with 16 of those in intensive care, and 1,832 individuals who no longer have to practice isolation measures. Sadly, they noted one additional death in long-term care on the Lower Mainland, for a total of 131 deaths in the province due to COVID-19.
At Island Health, we continue to have 125 confirmed cases – no additional cases in the past few days. One patient remains in hospital, but we are pleased to share that we currently have no patients in critical care. Of the confirmed cases in Island Health, 115 people no longer have to continue self-isolation measures, as they are no longer at risk of transmitting the virus.
Minister Dix and Dr. Henry also paid tribute to nurses as they recognized International Nurses Day. "Let's honour and celebrate nurses everywhere for the incredible work they are doing right across our province – in hospitals, on our streets and in communities, large and small. Thank you for all you do," they said. This morning, Premier John Horgan released a statement on International Nurses Day as well, which you can read here.
You can read the joint statement and the transcript of the news conference. 
CONCLUSION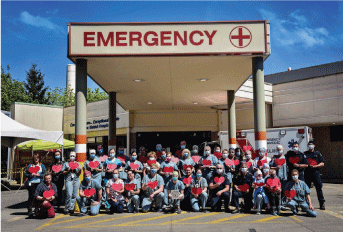 The world we are living in today with COVID-19 is something we have never experienced before. This is the first time any of us in health care and in communities have lived through a pandemic in our work, with our families and in our communities. Today, we want to share an article by Cathy Jacob that we hope lifts you up called Five things the pandemic can teach us about how to inspire.
We invite you to read these five things and reflect on your colleagues who have inspired you throughout this pandemic. There is no doubt in our minds that you will be able to easily think of colleagues who have done just this for you. Let them know. Send them an email of thanks. Pick up the phone and say hello. Share your appreciation with them when you next see them.
We have shared and will continue to share pockets of inspiration daily in these updates while knowing we have only touched the tip of the iceberg by sharing these stories. We know every day, each and every person is making a difference, caring and being kind. We are so grateful.
Sincerely,
~ Kathy and Richard
---
Stay informed: