SENT TO ALL STAFF, MEDICAL STAFF, STUDENTS AND VOLUNTEERS ON BEHALF OF KATHY MACNEIL, PRESIDENT & CEO – AND DR. RICHARD STANWICK, CHIEF MEDICAL HEALTH OFFICER
---
It is with the greatest of gratitude that we recognize all of the nurses in the Island Health family as we begin National Nursing Week. Nurses provide care, compassion and kindness for patients and families while also being valued leaders, administrators and educators.
Nurses have led the global fight for reproductive justice and public health, and established professional institutions to govern and advocate for nursing. You have been on the front lines of COVID-19 and other health emergencies and will continue to be as we transition to everyday care and our new normal. Please watch this video message from our Chief Nursing Officer Dawn Nedzelski and join us by saying thank you to nurses this week in our communities and in our health-care facilities, programs and services.
PROVINCIAL DAILY UPDATE
Today's update from Dr. Henry and Minister Dix noted there are 23 new COVID-19 confirmed cases across B.C. over the past two days (9 from Saturday to Sunday, and 14 from Sunday to today). The total number of cases in B.C. is 2,353 with 1,417 no longer having to practice isolation measures. Sadly, one additional person has died from COVID-19 – in long-term care in the Lower Mainland – for a total of 130 people.
At Island Health, we have 125 confirmed COVID-19 confirmed cases – no additional cases in the past 48 hours. We have one patient in hospital. There are 112 people who no longer have to remain in self-isolation, as they are no longer a risk of transmitting the virus. We are also grateful to share that as of Saturday, May 9, the local state of emergency on Cormorant Island was declared over. We noted in previous end-of-day updates the incredible work of the Island Health family in supporting the First Nations communities and the Village of Alert Bay who co-led the community response. With this important milestone achieved, we again want to thank you for all of your efforts in living into our commitment to cultural safety and humility through your actions and interactions.
Dr. Henry and Minister Dix reinforced during today's update that we remain in phase one until after the May long weekend. What this means is we have to continue to hold the course for a bit longer before starting to expand our connections. In the coming weeks and months, as we safely ease restrictions and begin to expand our circles, the ability to quickly track, isolate and monitor will provide us with a key tool to continue to keep this invisible threat away from our families, friends and colleagues.
Each of us, as health-care professionals, will continue to be looked upon as the calm and reassuring voices in the community as we transition to a new normal. It is critical we continue to stand together with Dr. Henry in the coming months as restrictions begin to lift. You can read more in the joint statement and read the transcript. 
The importance of PPe in delivering safe care
As we begin to hear more details about easing restrictions, we want to take a moment to remind you about the importance of Personal Protective Equipment (PPE). Phase two of the province's recovery plan potentially increases the risk of exposure to COVID-19, as people begin to 'double their bubble' and more people travel to our communities. Safety continues to be our top priority, both your safety as a care provider and patient safety. 
The provincial PPE guidelines that we've been following are in place to ensure we provide care safely and to ensure our patients receive the safest care possible. To support this, continue to wear a surgical mask when you're within two meters of a patient/client/resident, and use clinical judgement in assessing your patient/client/residents to determine if additional PPE is required.
Please refer to these PPE guidelines for the latest recommendations. There have been no changes to PPE guidelines, but based on your feedback, we've made some adjustments to make it easier to find the information you need based on the care setting where you work.
PPE is only one part of keeping yourself safe - frequent hand hygiene and physical distancing are still the most important precaution you can take, particularly when you are out and about.
STAFF AND MEDICAL STAFF TOWN HALL
We look forward to meeting (via tele-conference) with you tomorrow, Tuesday, May 12 at noon for our next staff and medical staff town hall. Watch your email tomorrow morning for the call-in number and a link to the Sli.do where you can post your questions.
Before posing new questions this week, we encourage you to have a look to see if your question has already been addressed in the questions and responses from last week, or the HR-focused Q&A.
CONCLUSION
Over the weekend, the Times Colonist ran a series of profiles on members of the Island Health family working on the front lines of healthcare during the pandemic. We encourage you to take a few minutes to meet some of the many people who continue to step in and support the health system during COVID-19. To those who shared their experience with the newspaper report thank you for helping Island Health residents understand the incredible work you and your colleagues led to help prepare for and respond to this pandemic. You are all so inspiring!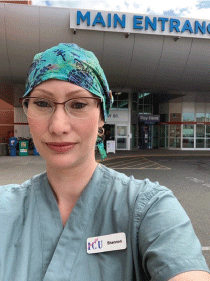 Read the profiles here:
Be well,
~ Kathy and Richard
---
Stay informed: