Island Health's annual Knowledge-to-Action Awards aim to celebrate and spread the use of high-quality, relevant evidence to change practice and improve quality and care. We received many applications this year, and we're grateful not only to everyone who took the time to apply, but also to our nine peer-reviewers (colleagues at Island Health as well as academic and community partners). They had the very difficult job of choosing the top three projects to receive the gold, silver, and bronze awards.
This week, we celebrate silver award-winner Dr. Paul Winston (Medical Director of Rehabilitation and Transitions) and his colleagues for "Using Evidence to Build a World-Leading Hub for the Management of Spasticity."
Spasticity is a pathological increase in muscle tone that creates stiffness and resistance to passive movement. The condition has a huge negative impact on quality of life; it can be very painful, causes disability, and puts people at ongoing risk of injury, such as falls.
Dr. Winston and his colleagues are using innovative techniques to relax muscles and freeze nerves in order to treat people who haven't responded to other treatments.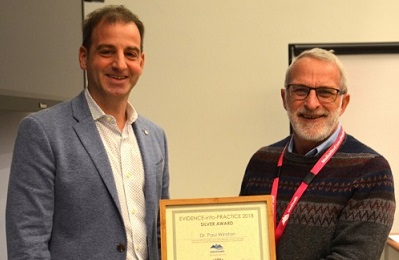 Dr. Winston (left) receives the award from Dr. Malcolm Ogborn.