The Physician Quality Improvement Program, a partnership between the Doctors of BC, Specialist Services Committee and Island Health, supports physicians leading quality improvement projects.  Since 2016, Island Health physicians have had the opportunity to sign-up for organized QI training and support to lead a QI project in their area of clinical expertise. With the support of the Specialist Services Committee this program is now in its fourth year.
For example, Medical Orders for Scope of Treatment, umbilical cord clamping, opioid substitution therapy and pre-surgery preparation provide just a brief snapshot of the the exciting work physicians lead in the PQI program.
Medical staff should reach out to the Physician Quality Improvement Program if they have any questions or are interested in leading their own QI project.
Contact
PQI@viha.ca or 250-331-8626 x 68626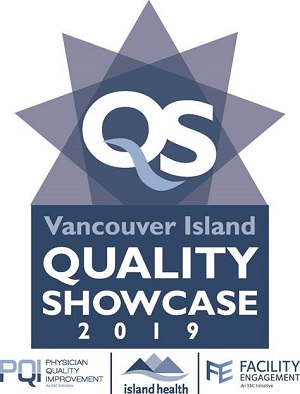 Vancouver Island Quality Showcase 2019
More than 200 people from across Island Health gathered in Nanaimo on April 25 to celebrate Quality. Medical staff, nurses, clinical staff, patients and leaders came together for the day at the Vancouver Island Conference Centre in Nanaimo. The Quality Showcase was held to display the efforts and achievements of the variety of Quality work being done in Island Health.
It was also a chance to celebrate accomplishments, collaborate with patients and peers and inspire involvement in engagement and improvement. The collaboration between Facility Engagement, Physician Quality Improvement and Island Health made this event possible. More than 50 quality projects were presented on posters and in breakout sessions throughout the day.