Posted on: March 15, 2023
At Island Health's 2023 Code Hack hackathon, after 23 hours of thinking, creating, designing, building, and presenting a solution to a patient care challenge, it came down to one guiding inspiration for the team who earned the $1,500 first prize from the judges, and the people's choice award from participants: dignity. Their solution presented bedside toilet alternatives to help patients manage washroom functions and mobility issues with dignity and improved cleanliness.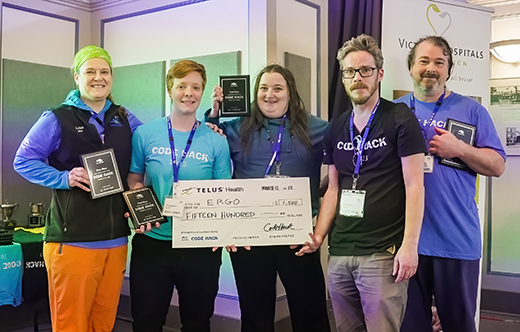 Team ERGO, the winning team at Code Hack 2023​
Team ERGO was comprised of a nurse, a mechanical engineering student, a patient, a physician, and a mentor. They clearly identified an existing problem or issue in healthcare, supported it with compelling and passionate first-hand experiences, and worked to create a better, innovative, and practical solution to improve the patient experience.
In second place, earning a $1,000 prize were The Wayfinders, a team who proposed developing an app to help people find their way through the large, complicated campuses of the hospitals and help guide them to their locations with directions and voice activated directions for the hearing impaired.
Coming in third place with a $750 prize, was Team End PJ Paralysis who worked on a tool, similar to a smart watch, that connects to an app and tracks movement of patients, to encourage activity such as getting up and getting dressed to reduce fatigue and body deterioration. This could support existing research which shows benefits when patients dress in their own clothes, and try physical activity when recovering from illness or injury.
The 2023 Code Hack was Island Health's third hackathon and returned after a three-year hiatus. It is organized by the Island Health Innovation Lab with organizational support from Island Health Research and Innovation and Architecture. Of special note this year, Island Health CEO Kathy MacNeil committed financial support of $10,000 to the top four hackathon teams to help them develop their solutions further. 
The Code Hack team is grateful to all the volunteers who worked tirelessly on this event, and sponsors including Telus Health, the Nurses and Nurse Practitioners of British Columbia, Dr. Fred Voon, The Centre for Inter-professional Clinical Simulation and Learning, Camosun College, and the Victoria Hospitals Foundation. Mentors and judges provided invaluable advice to participants on how to navigate health systems, engage the business community, and refine their solutions for next steps.
For information about Code Hack and a summary of this year's event, visit our Code Hack webpage.
See this article to learn about examples of hackathons in healthcare. ​