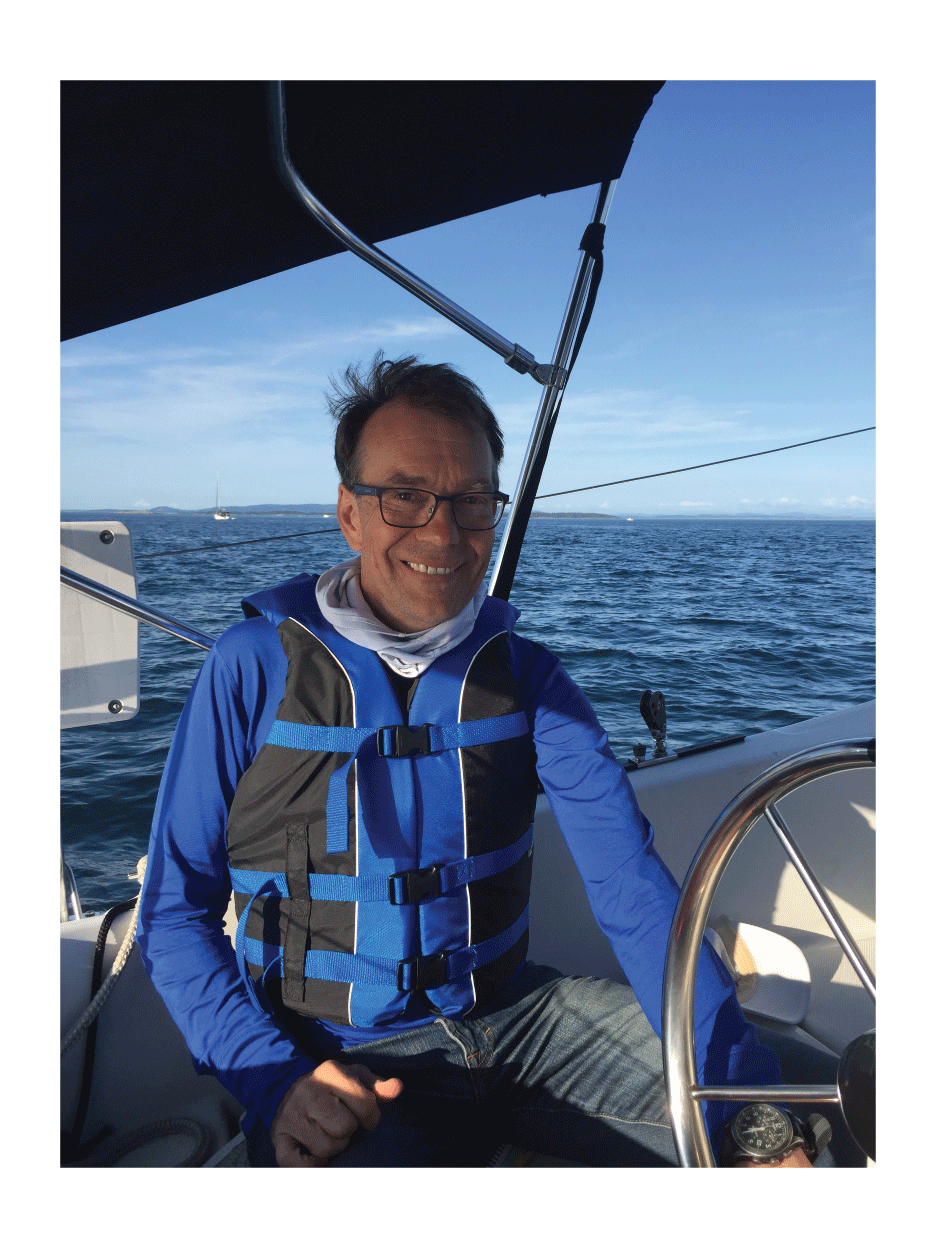 To pay tribute to the many dedicated physicians practicing at Island Health and in honour of National Physicians' Day, we are profiling some of the doctors leading innovations and delivering high quality service to show the human behind the profession. Dr. William Cunningham practices Family and Emergency Medicine in the South Island. He is the Medical Director for Urban Greater Victoria and the Department Head for Primary Care.
Why did you chose medicine and your speciality/field?
"Already as a little boy I wanted to become a doctor. My dad was a doctor, Queens Belfast class of 1936. In WW2, he was decorated for taking care of allies, but also the enemy, as part of his normal Royal Navy Physician job. He then worked in the smallest Newfoundland outports and in the North of Canada. Eventually he worked for the Canadian Diplomatic Service in Health and Welfare. He often talked about how meaningful it was to care for people and had a fascinating and meaningful career. That is what I wanted to be and worked very hard to achieve that goal. After McGill and then my Rotating Internship at RJH 1985/86 I went north to the Yukon for 14 years. There I did everything expected of rural physicians: Family Practice, Emerg, Obstetrics, LTC, First Nations Medicine, Medical Evacuations. There were also leadership opportunities and I learnt that if I put effort into it, I could remove barriers to care. I helped develop a mammography program accessible to all and not only those that could get to Vancouver, and helped to develop the MedEvac service."
What is most meaningful to you about your work in medicine?
"There are two things. Patient interactions. In Family Practice, I found the longitudinal relationship with patients very satisfying. You get to know people and help them achieve their life and health goals and change outcomes. In Emergency Medicine, I also enjoyed the privilege of helping people in their hour of need. The other thing that became evident is how amazing the human body is and that my role was really only in helping it to heal."
What are your professional interests and notable achievements?
"I always volunteer for things. It leads to interesting experiences, like being the Vice Chair of the Yukon Mental Health Review Board or the Yukon Doping Control Officer. Or the Chief Medical Officer for the Arctic Winter Games and, after moving to Duncan and a few more exams to become an Emerg doc, I was the Chief Medical Officer for the 2008 North American Indigenous Games. I also quickly got involved with the Section of Emergency Medicine and helped to make it into what it is today. The BCMA and the Doctors of BC was where I got to bring about great change. The most transformative was changing how Nominations were done to committees from by appointment of the chair to a fair merit based process, which totally changed the look of and the content of the organization. We also moved to including medical students and residents on all committees. It is my proudest achievement. Coming from an entitled group, I have a job to get rid of barriers. It is important to me as a leader. I continue to do so at Island Health."
Who or what do you turn to for inspiration?
"My Mom and Dad were very inspiring. They taught that honesty, fairness, hard work, and teamwork were critical.
Also, my three children, Richard, David and Elizabeth, are inspiring to me. They define their own success and have a good work-life balance, unlike me. They are great all around people who excel in academics, sports, and their own diverse cultural interests, such as music."
Where do you go, or what do you do, to recharge your batteries?
"During my workday, I go out into the garden and into the chapel at RJH.  I am also recharged by my daily interactions with the amazing people I work with. It is such a privilege. 
When I go home, I love gardening and watching things grow, and my little sailboat. I love the outdoors, I love to read a lot, and am trying to learn guitar so I can be a musician like my three children."
What is the last book or podcast you've enjoyed?
"I always have more than one book on the go. I am currently reading 1493, Successful Aging by a neuroscientist, and How to Invent Everything."
What core value have you most relied on during the COVID-19 pandemic? 
"To be kind and respectful. To be totally dependable and super competent. To work really hard and be a great team player. I feel very privileged to be asked to take such a leadership role in primary care, and opening the testing and assessment clinics, and to be appointed by Dr. Richard Stanwick to three provincial committees. I like challenges and figuring out how to get things done." 
What is a change you've seen to the health system over the last few months that you are eager to see sustained?
"The leadership structure was simplified and consequently then we suddenly got things done. I really enjoyed personally that my leadership style of leading from the front, being very visible, and engaging the people that do the work was appreciated. I hope it is a model for leadership in the future.
Coming together with community Family Physicians and Nurse Practitioners to work on solutions to benefit patients, I hope goes on too. There is a realization that how we've done things in the past doesn't have to be how we do things in the future. If we can do 50-60% of care virtually, it is way more convenient for the patients. We can see patients where they are, when they need us. It also permits us to attach to more patients and use our healthcare facilities in better ways. I have really enjoyed how everyone can work together in teams. I hope it goes on. We have never done it like this before. It is satisfying.
I also saw how well prepared Island Health was with its EHR/EMRs, virtual health tools, Home Health Monitoring, etc. We could not have done it without IHealth. It made a big difference.
It is interesting that not only did we have COVID to contend with, our normal day jobs continued. The James Bay Urgent and Primary Care Centre still opened despite COVID. It is a tribute to the many people who made that happen."
What do you wish more people knew about practicing medicine?
"I want everyone to know it is an honour and a privilege to practice medicine. Doctors are never allowed to forget that. The relationship with patients is what it is about. In medical leadership, we have to stick to our core values, remove barriers, and create equity. Then we will make system changes that make peoples' lives better.
What is your hope for the future of health care in Canada?
"It has to be fair to everyone. Everyone has to have access, rich or poor. I believe strongly in excellent care every time for everyone, everywhere. We need to focus less on just acute care and focus on the community and keeping people healthy. We have to as a system have a respect for all of the people who contribute to creating health, all team members. Healthcare also includes social determinants of health and the environment, the whole context has to be right."