The team at BC Renal wrote this profile of Island Health-based community nephrologist Dr. Rachel Carson.
A person who is good at analytics and math is faced with many potential career paths that are interesting and impactful. For Dr. Rachel Carson, these strengths almost led her to pursue a PhD in biotechnology after an undergraduate degree in engineering. 
But in a stroke of luck for the kidney community, she decided to pursue her MD and apply her skills as a community nephrologist who engages in research. 
Currently based in Nanaimo, BC, she has been a nephrologist with Island Health for 15 years, and has spent the past 14 years working with BC Renal and its provincial network that encompasses the kidney programs of BC's six regional health authorities. She's seen here with her dog Atlas.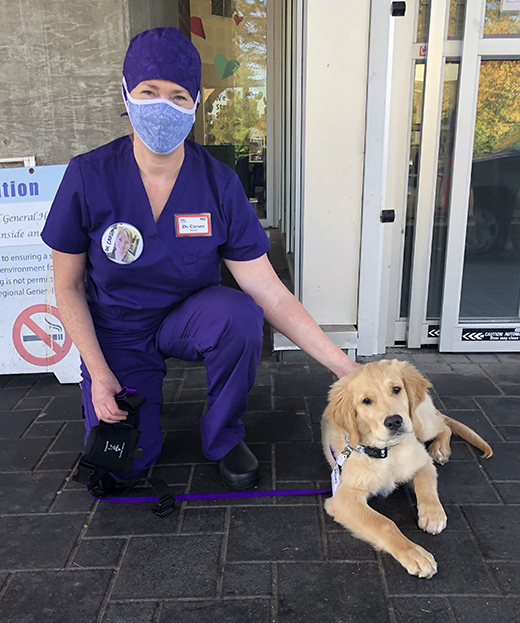 Her research interests touch on matters that are deeply important to patients, including how to ensure that a patient's wishes and values are expressed, heard and respected in health care; conservative management of stage 5 chronic kidney disease, for kidney failure care that doesn't involve dialysis or transplant; and equitable access to health care for vulnerable populations.  
"I am always interested in the vulnerable, the 'underdog,' and in the ways we can humanize the care we provide," explains Carson. "At the same time, I like to think about system-level changes to achieve quality improvement."
This past year, Carson was confronted with a unique opportunity to address many of these issues when she worked with a diverse team coordinated by BC Renal to develop a new framework to manage dialysis resources during the COVID-19 pandemic. The team had to mobilize quickly to ensure that if services were to be limited, patients would receive dialysis in a way that is fair and equitable. 
This involved consulting patient partners and incorporating their perspectives into the framework, as well as combining different algorithms for triaging patients.
Another project that Carson is particularly proud to be a part of was with a research group in the UK immediately after her nephrology fellowship. There, she helped publish one of the earliest and – at the time – largest cohort studies of outcomes in conservative (non-dialysis/non-transplant) management of end stage renal disease/kidney failure.
This intersection of medicine and research is valued by Carson. 
"Even though I am a community nephrologist and not in a traditional academic role, I am grateful to have opportunities to stretch my mind in an academic sense and explore big picture questions," she says. 
Moving forward, Carson is interested in two related questions: (1) What system changes will increase Advance Care Planning conversations between patients, caregivers and the multidisciplinary renal team? and (2) How can we improve Quality of Death for kidney patients?  
"Currently we don't measure Quality of Death, so we don't have any hard outcome data to support some of the palliative and Advance Care Planning work that we believe is very important," Carson says. "It is the only pillar of the BC Renal Palliative and End of Life strategy that we haven't yet dug into, so that is work that I would like to get to before the end of my career."​