To pay tribute to family doctors, the backbone of primary care, and in honour of BC Family Doctor Day, we are profiling some of the amazing family doctors practicing in Island Health. Dr. Manya Sadouski is a family doctor on Salt Spring Island. She's been practicing for 29 years, 14 on the island. She's also a classically-trained pianist and soprano.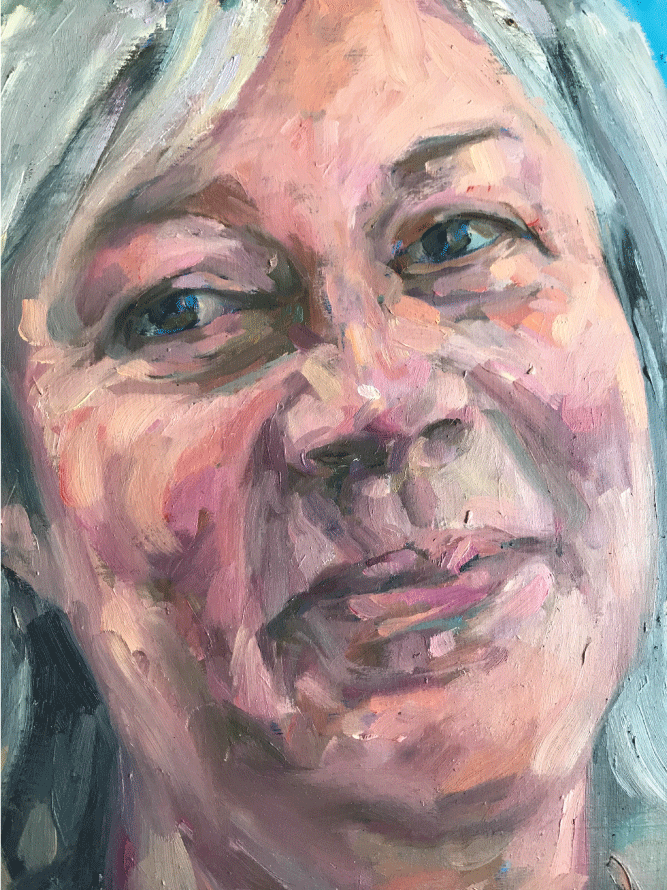 Portrait done by a local artist Susan Benson. It is one of 150 portraits of Saltspringers done for Canada 150.
Why did you choose medicine?
Medicine was a goal for a smart kid in high school with an interest in sciences. I set it as a goal without really knowing what I was getting into. I knew I liked biology and science and that was about what I knew going into it.
Family medicine seemed like the best fit for me. Medical school was quite hard on me. There were lots of aspects of medicine that I saw that were actually quite harsh. But when I did family medicine rotations and interacted with family doctors it seemed like a good fit. These people were holistically taking care of their patients. When I did some rural placements, it was the right fit. Family physicians were the first people in my medical training to tell me that being kind is an important attribute.
Rural medicine is challenging and appealing. There is so much scope around rural medicine, I like working in emergency, I like working in the hospital, and I like working in my clinic. I like the variety and degree of responsibility. I can follow my patients through and I have connections through the hospital and community. I can stay connected to my patients and find it rewarding.
How has your practice changed during the COVID-19 pandemic? 
It's been turned upside down – nothing is the same in how we work and deliver care. Our clinic is now doing 95% telehealth visits. We've had to rapidly switch over to these services and plan for a future of remote care. The bottom has dropped out of our income. Our offices are quiet as patients stay away. Nothing about the care we provide is automatic. You have to stop and think about every step along the way. The same goes for the hospital – everything has changed, the workflows, the way you think about presentations, how we see patients.
The change has clarified a bit and we've been lucky in Island Health to not see major infection rates but we still have to conduct ourselves as if everyone has COVID until proven otherwise.
What core value have you most relied on during the COVID-19 pandemic? 
I think community and how we function as a community at all levels has been integral. Professionals and family physicians have been supporting one another and problem solving together, getting creative and participating in changing workflows. Sometimes nobody has an answer, so everybody's been participating and collaborating. The community of physicians and health care workers have worked hard to try to support one another.
Where do you go, or what do you do, to recharge your batteries?
Right now, these options are limited by the pandemic and it's hard. I play piano and am a classically trained soprano. Normally, I'd get together with other people to rehearse and sing but we can't do that right now. I practice alone and learn new music but it's not the same as getting together with a group.
Being outdoors is also restorative. I can still go for walks and that's important. We're so lucky to be so close to nature on Salt Spring.
What is the last book you enjoyed?
Usually I read one nonfiction book and one fiction book - this really helps me get away but my reading has been limited by the pandemic. I just finished an Emily Carr autobiography: Growing Pains. It is beautifully written and remarkable how extraordinary Carr was and how she was ahead of her time.
I also recently read Attending by Ronald Epstein. It's about brining mindfulness to medicine. It's quite beautiful and represents a shift from the time when I was trained towards physicians reflecting on themselves and what they bring to their clinical relationships. Now there's more humanity in engaging our patients and ourselves.
What is most meaningful to you about your work in medicine?
Connection and the opportunity to help people with my presence and skills is most meaningful to me. I get to build relationships, use my skills and knowledge as a human being to help people - that's pretty cool.
What is a change you've seen to the health system over the last few months that you are eager to see sustained?
Patient-focused innovation and flexibility has been exciting. The example I think of is telephone-based care. Unfortunately is gets operationalized through the payment system but the idea that we've been so driven by FFS and the only care that counts is in-person is swapped out for more flexible definition of care is exciting. It meets people's needs much better. The society of general practitioners and the General Practice Services Committee have started the conversations about recognizing the diversity of needs and trying to addresses them with innovative models of care. I'd love to see them continue to move away from the private business model of medicine. It asks physicians to do more outside of medicine than they should.
I'm really excited about the idea that we might continue to innovate around how we provide care.
What are your professional interests and achievements?
I've worked in rural communities as a full service rural physician and I've been an academic physician in Manitoba. I've had some leadership roles on Salt Spring and served as a physician lead the rural and remote division of family practice. I also practice in an outreach clinic on Saturna Island once a week. My husband and I have raised four kids, who have returned home during the pandemic.
What is your hope for the future of health care in Canada?
I hope it's sustainable, patient-centered, coordinated and fair. One specific example is national PharmaCare. That would benefit many people.