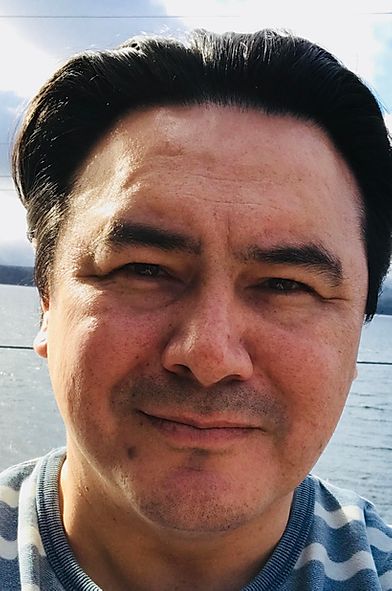 To pay tribute to the many dedicated physicians practicing at Island Health and in honour of National Physicians' Day, we are profiling some of the doctors leading innovations and delivering high quality service to show the human behind the profession. Dr. Dan Cutfeet is a family physician in Alert Bay. Originally, from the Kitchenuhmaykoosib Inninuwug First Nation (Big Trout Lake) in Northern Ontario, he has been practicing on the west coast since 2010.
Why did you chose medicine and your speciality/field?
I came to medicine in a round about way. One of the reasons I ended up in medicine is my mother. She was a nurse in the remote First Nations of Northern Ontario, Kitchenuhmaykoosib Inninuwug First Nation. I remember going to the nursing station after school to wait for her to complete her work and you can't beat that influence – I see her influence in me to this day.
During the SARS outbreak, I was working as a forest fire fighter in BC. In our camp, we had an influenza outbreak. Because SARS was going on, they came in quick, hard and fast and I was quarantined in a tent. I saw so many people stepping up to help and I wanted to help and knew I could do it. 
What is most meaningful to you about your work in medicine?
I chose family medicine because I like the idea of having my patients, my community, and being responsible and being the person they go to. The relationship with my patients is very important.
What are your professional interests and notable achievements?
In another life, I was a fairly successful artist. I have five pieces in the National Aboriginal Galley of Canada. They are mixed media pieces about First Nation's identity. Medicine is all-encompassing and I don't have the drive to produce art anymore.
Who or what do you turn to for inspiration?
Family. My wife and kids support me with piece of mind, solitude and fortification. For inspiration, I pick up the phone and talk to my dad. He was a bureaucrat and worked for Indian Affairs and he's done so much work with First Nations communities. He was chief of our community and my family has always been involved in local politics. I look to my family a lot. My great grandfather was a very wise man, I think of him and I ask my father for advice. I find good direction from my family.
Post secondary school was lonely as a First Nations person. Going through school without other First Nations people, who get where you're coming from. When I came to Victoria, I looked for a connection and purpose and I found it. My wife and kids love Victoria, they settled in. I intended to return to Ontario but we ended up staying. I pretty much live in Alert Bay, except for a weekend here and there to come to Victoria to see my wife and kids. They'll come up here as well. This has been our marriage. Before medicine, I worked as fire fighter and child and family services. All my jobs have taken me away for days, weeks, months.  
Where do you go, or what do you do, to recharge your batteries?
Where I'm from, we say "you gotta get back to the bush". Nature is so important. My house in Alert Bay is on the water. I enjoy just sitting on the beach and going for hikes and spending a lot of time in the bush. I find it very therapeutic.
What is the last book or podcast you enjoyed?
I just finished, "How to be an Antiracist" by Ibram X Kendi. I think it should be mandatory reading for the human population. It's a fantastic book.
I drive a lot so I have a lot of time to listen to podcasts. I enjoy the investigative journalism of S-Town and the Dropout. It's an expose on Elizabeth Holmes and her fraudulent blood testing company.
How has your practice changed during the COVID-19 pandemic? 
I miss seeing patients. Every now and then, we see a patient, there's a kid coming in today. I find medicine is so much easier when you see the patient. You lay eyes on them, you lay hands on them. Not seeing them is frustrating and it's made things hard. Patients are frustrated too. The relationship is not being nourished.
What core value have you most relied on during the COVID-19 pandemic? 
Working in medicine, in a First Nations community, with First Nations people, I think about advancing First Nations' health and communities. Even though we're constricted now, I ask what would a patient get in a bigger community that they can't get here – and it means working that much harder. It's about providing quality care despite the limitations.
What do you wish more people knew about practicing medicine?
I see medicine as a service. This may be a romantic ideal and probably has a lot to do with me being a little boy going to church with his mom, seeing ministers and pastors. I see it as a service to others.
What is your hope for the future of health care in Canada?
I really hope that, in Canada, we address the big gaping holes and wounds of long-term care, hospital staffing, and issues on reserves (potable water, education and health care). You don't need to have scholarly mind to know that problems exist there. Canada has known these problems exist but has been happy to let them continue, thinking that everything has gone well, without huge tragedies or pandemics. Now we have had a pandemic and these things need to be addressed. We need to advance them and we need to improve them to prevent something worse from happening. I would really like us to improve our health services.